as-salamu aleykum,
you can be proud sister Mabsoota, i did my very first digitalisation with my new software for my embroidery-machine and what did i choose? A graphic from our talented sister Mabsoota mashAllah may Allah bless you in your talent!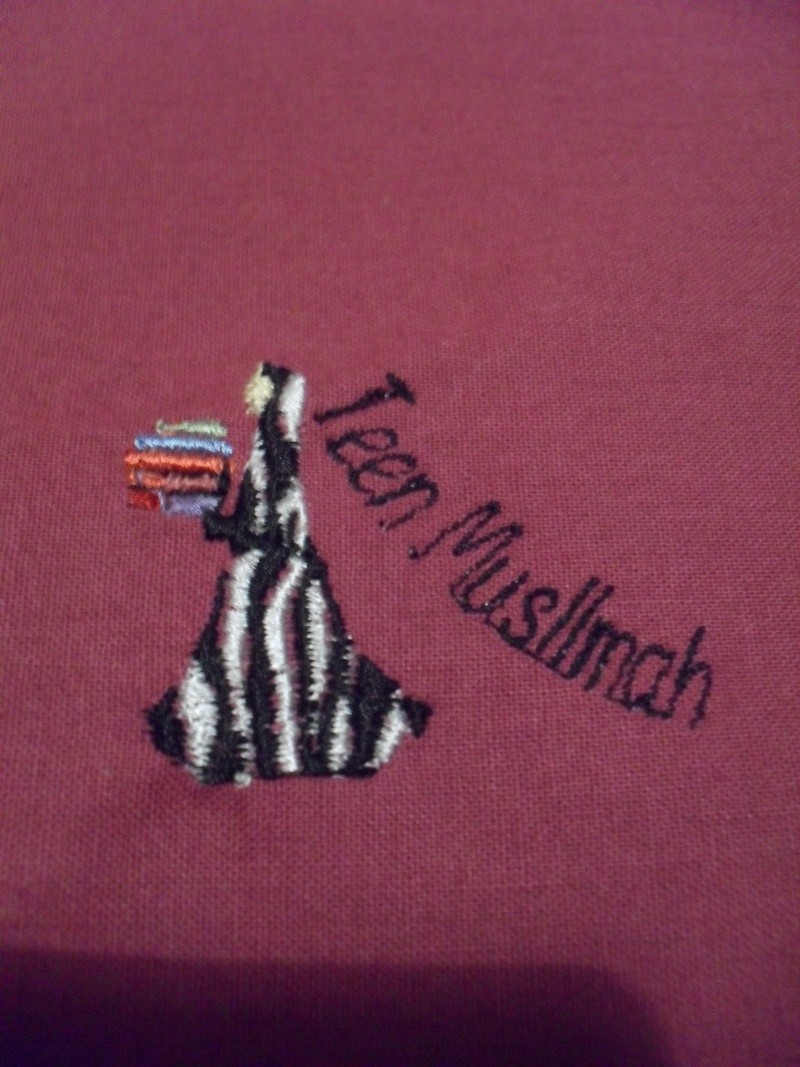 I'm an absolut beginner, i have to make some experiences to know how to get a bigger embroidery, this one turned out sooo small! The design has to be very simple because i have just the most basic embroidery software, the result will never be very refined but ALHAMDULILLAH! There are soo much things to do!
unfurtunately i couldn't take the graphics from the coloring pages of the homeschoolsection (which should be perfect for embroidery with the clear lines)because my software doesn't recongize all pictures, only .bmp,.tif, .jpg,.pcx,.wmf, .png, .eps, .pcd, .fpx, .j2k!
I wish you were with me sister Mabsoota and all the talented graphic sisters mashAllah, it was soo fascinating to watch the machine emroidering this picture of the little muslimah mashAllah!
inchAllah this is the beginning of a interesting story mashAllah la quatta illa billah. i dreame about embroidering islamic pictures since a long while now.
Please tell me sisters, if you are not pleased to see your graphics embroidered. Also i have to admit that since my software didn't recognize the fonts that sister Mabsoota had in her graphic i have changed them.
If there is any problem with that i promise that i will not do it again and you can delete my post, i'm aware of the artist's right alhamdulilLah!
salamu aleykum

um-zakaria

Active Sister





Registration date :

2010-04-26



Ohhh mashaAllah!!
I want to cry subhanallah!! It looks fabulous!!! I'm so excited about this, now I want to buy an embroidery machine. Please sis um zakaria, tell me which ones are good!! What would you use the designs on? Bags? Tee shirts? Pencil case?
About changing the font, it really is not allowed, but I forgive you, I'm sure you were too excited and got a bit carried away, lol.
Next time ukhti let me help you and change the font for you etc. I can change some of my designs to jpg too if this is what your machine takes. Let me know inshaAllah whenever you need one of the drawings changed.
Oh I can't wait for my daughters to return from school, I will show them this thread!!
dear sister, today you have made me smile from ear to ear mashaAllah!

Mabsoota

Staff





Registration date :

2008-10-29



BarakAllahu fiki sister that you don't mind to much about the fonts, inchAllah it will not arrive again, but a embroidery machine is something different that a printer...
I gave you the virus? Hehe!
Sadly it is a very expensive hobby...the absolut best brand are the bernina machines, but they are very expensive and i don't think you can get them where you live,
a good solution concerning quality and price is brother, i have brother innov-is 950 (it is a sewing and embroiderymachine), and the software is PE Lite design, it is the most basic embroiderysoftware (astargfirulLah i wish i had a more sophisticated....)in europe this machine is on sale with the software for the moment.
It is important that you buy somewhere where you can have a service after (asking when you don't understand something), not per internet. And where you have guarantee and reparation in the case something doesn't work.
Oh i understand you for your daughters,
it is the youth who love the embroidered items like you mentioned: t-shirts, pencilcases, bags...
I like to make organisers with words embroiderd to help the children to tide up their room. And i embroider them in 4 languages so they learn by the same time some vocabulary...
dear sister, i loooove your graphics and you gave me often such joy with them (
you
are the one often to make me smile from one ear to th other!) that i would be so glad to send you the embroidery you saw on the photo! Or what ever you want! If you want, you can Pm me your adress, if you don't want that someone of this forum has your adress i can understand, no problem. Maybe you have like a box at your postoffice, so your privacy remains secret? I would like so much to share with you more than the picture!
Oh that would be fantastic if you ca change the pictures into jpg. !
The best for this very simple software are pictures with clear lines , like the coloring fun from the homeschoolsection.
I 'm so happy that you enjoy with me, i wished we could sit together with a cup of
and some
and for your daughters some
(more healthy !)
Alhamdulillah for the internet and the friendship with you all in this forum, Allah barek!
salam

um-zakaria

Active Sister





Registration date :

2010-04-26



salam again
(i'm looking about all 10 minutes in the forum to see if you have answered...! i even don't know how the difference of time is between you and me?)

Sorry, but the correct name of the software was: PE-Design Lite

salam


um-zakaria

Active Sister





Registration date :

2010-04-26



Masha Allah this is really beautiful sister Um-Zakaria. It is fun to try new things and the Brother machines are really nice.
I tried one during my holidays and you are so right they are very expensive. I made some blocks, Insha Allah I will try and take pictures of them and post them one day.
I look forward to seeing more of your work.

Zaza

Staff





Registration date :

2008-10-29



as-salamu aleykum

dear sister Zaza, yes, yes, yes please show us what you have been sewn!! Was it a sewing machine or embroiderymachine? you never said that you sew also mashAllah?

looking forward to see and sew more!

salam

um-zakaria

Active Sister





Registration date :

2010-04-26



No I don't sew sister Umm Zakaria, I was just trying the brother I can't remember the model at an exhibition, and I made some blocks you know square pieces.

Zaza

Staff





Registration date :

2008-10-29



Sis um zakaria,
for the info. Your words were very kind mashaAllah.
I will pm you soon insha'Allah.

Mabsoota

Staff





Registration date :

2008-10-29



wa fiki barakAllah!
i'm waiting!
salam

um-zakaria

Active Sister





Registration date :

2010-04-26



Similar topics
---
Permissions in this forum:
You
cannot
reply to topics in this forum